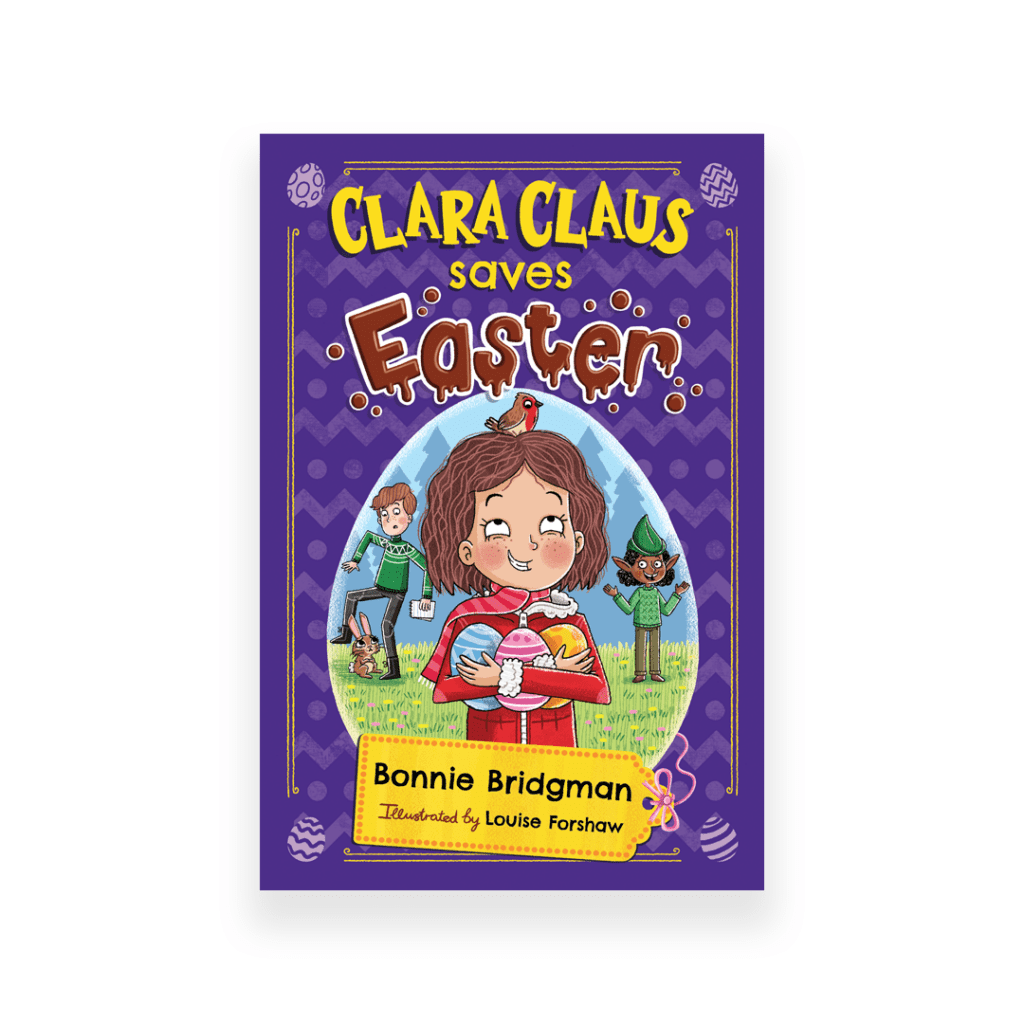 by Bonnie Bridgman and Louise Forshaw
Clara Claus Saves Easter is a thrilling and chocolate-filled Easter adventure. Join Clara, her brother Nick, and a colourful cast of characters old and new in this most egg-celent (sorry!) of stories.
A highly-anticipated sequel to Clara Claus Saves Christmas
Available on AMAZON and from all good bookshops
"Bunny hop into this egg-cellent adventure with Clara and Nick. As sweet and satisfying as a basketful of chocolate eggs, I devoured it in one sitting!"
Christmas may be over for another year, but when Rowan the forest elf goes missing and the Santa Scouts are in trouble, Clara Claus and her brother Nick must investigate.
Traveling from their home in the North Pole, they enlist the help of Gordon the grumpy gnome to track down the mysterious E.B. But with bunnies and squirrels to train and chocolate to wrap, can Clara and Nick crack the case to deliver the perfect Easter?
Bonnie's all-time favourite season is Christmas so it came as no surprise that she has written a story about it. She is her happiest in a land of imagination and the more Christmas magic and festive fun, the better. Having worked as an actress for nearly a decade Bonnie has performed in many a Christmas show. She has portrayed a rather pink and sparkly fairy bow-belles and has even dressed as a Christmas present (don't ask).
Bonnie lives in Hampshire with her husband and daughter. When she's not writing, or hunting down Christmas decorations, Bonnie works as a learning support assistant at an infant school which is the perfect age to test her stories out on. Her debut authored picture book Catch that Cough was published by Tiny Tree books in September 2019 and is currently in the final for the People's Book Prize Children's 2019/2020.
Clara Claus Saves Christmas will be Bonnie's debut Junior Fiction.
Louise Forshaw was born in 1987 – most likely with a pencil in her hand! Her passion for drawing started at around 4 years old. Nothing was safe from her coloured pencils! Louise currently lives with her fiancé in a small town in the North East just outside Newcastle upon Tyne. She works from home in a small studio (and sometimes from the sofa) being supervised by three noisy and very naughty Jack Russell Terriers