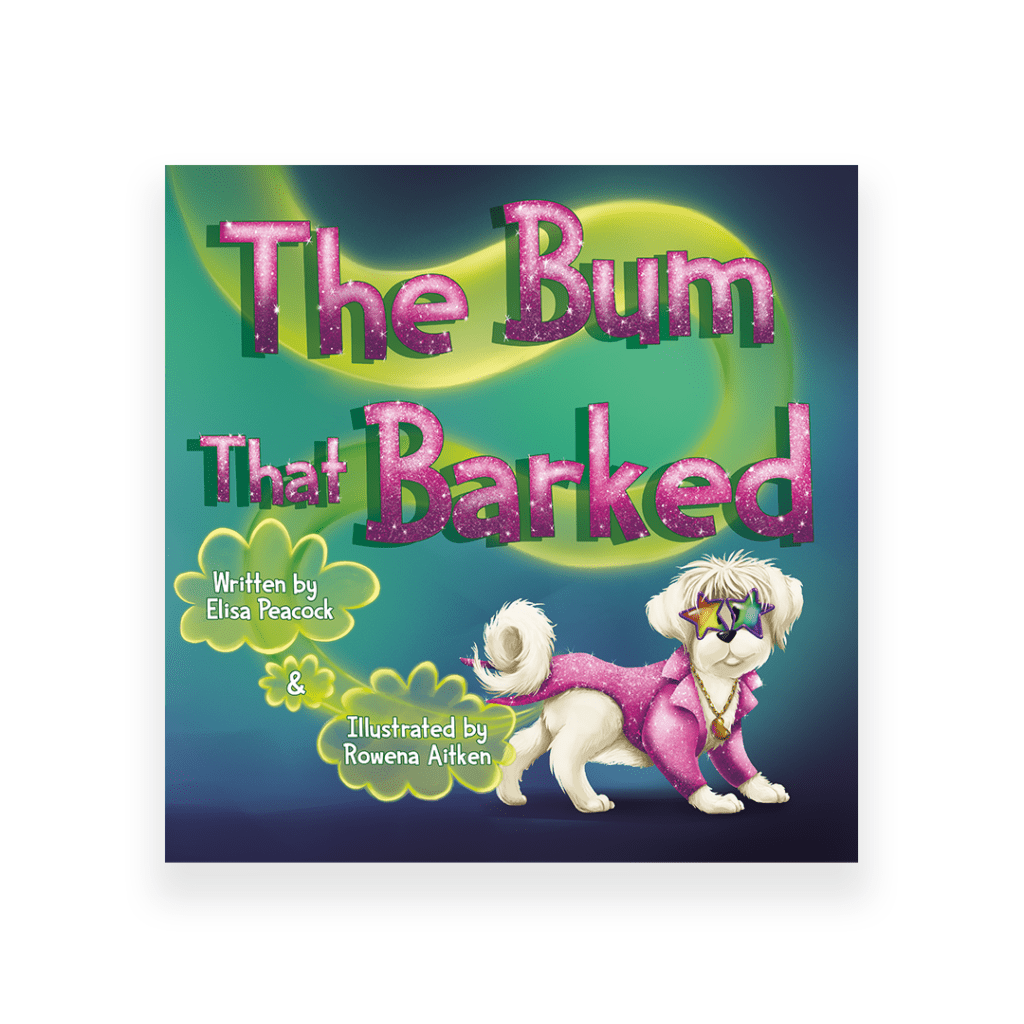 By Elisa Peacock and Rowena Aitken
Bean the Dog and his barking bottom bring you a story full of laughter and ridiculousness. Filled with trumps, parps, and bottom burps, The Bum That Barked is a hilarious tale of fame, fortune and stage-fright that will keep you laughing until the end. Written by Elisa Peacock, and with wonderful illustrations from Rowena Aitken, The Bum that Barked is one not to miss.
Available on AMAZON and from all good bookshops
When Bean's bottom starts barking, he doesn't dream it will make him a star of stage and screen. With his ambitious derrière, Bongo, intent on fame and fortune; Bean the dog embarks upon a journey into ventriloquism!
However, when the pair hit the big time, an attack of stage fright wreaks havoc with Bean's tummy, leading to a rather unfortunate denouement! The duo's cover is blown (literally!) and the true nature of their double act is revealed! Fortunately – to the duo's delight – they find their fans love them even more.
A new author, with The Bum that Barked being her debut, Elisa has been writing picture book stories throughout her career as a primary school teacher. For the last 6 years, Elisa has been working as a supply teacher, a role that has provided her with inspiration and given her a great deal of experience in entertaining young children. 
Elisa feels that The Bum that Barked reminds us to nurture our individuality, be proud of our differences and hopes that her readers come away with a renewed confidence in their own uniqueness.
Rowena is a prolific artist who has worked on a wide variety of projects since she became a freelance illustrator 10 years ago. This include The Wee Book o' Scottish Mindfooness – A small illustrated book on mindfulness packed with Scottish colloquialisms, Our Big Box – A reminiscence tool for those with dementia and their families and The Hoots – A monthly comic following the musical adventures of The Brainiacs in Brilliant Brainz magazine.
In her spare time, she writes tutorials for other artists keen to learn digital art skills whatever their age.
Rowena has already illustrated two popular children's books: Ruan The Little Red Squirrel (2016) and The Kilted Coo (2017) before collaborating with Elisa Peacock on The Bum That Barked.