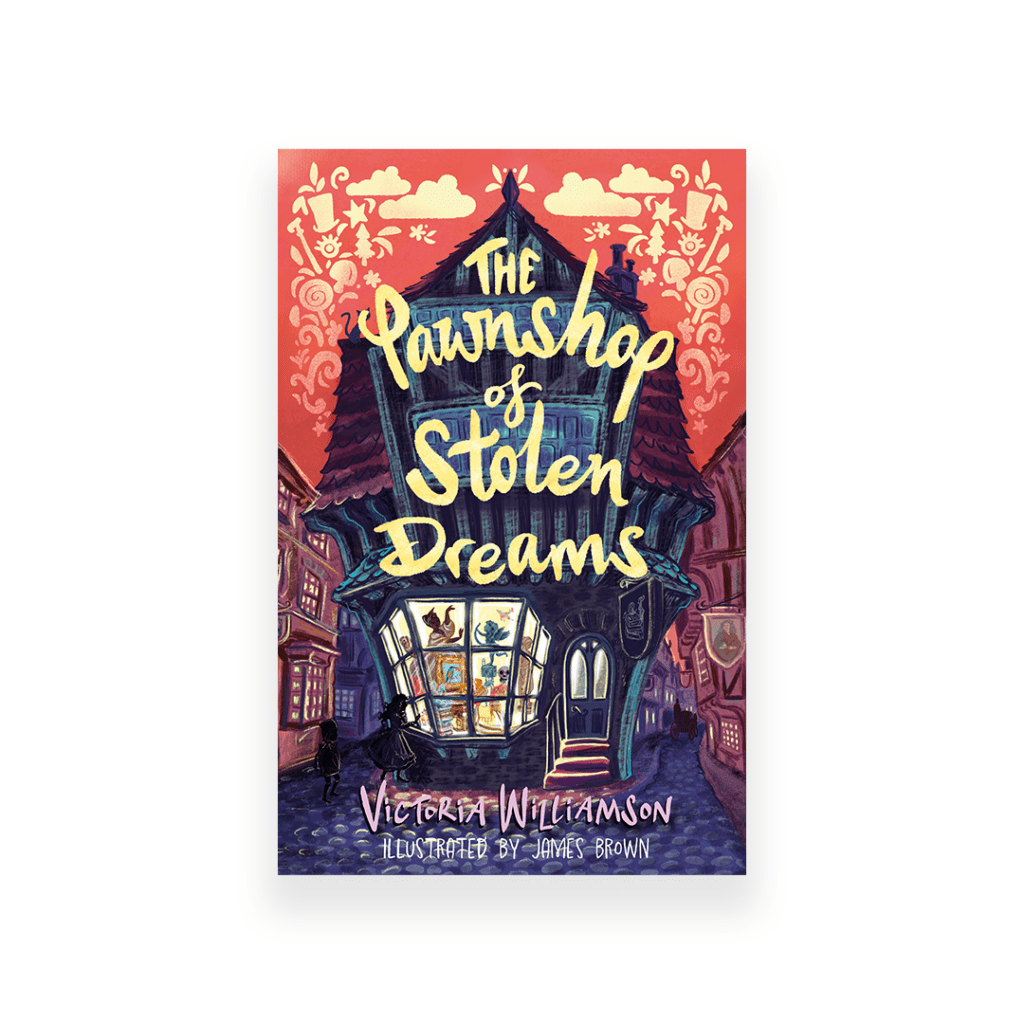 The Pawnshop of Stolen Dreams
by Victoria Williamson and James Brown
There's something strange happening to the adults in Witchetty Hollow and it's up to eleven-year-old Florizel to find out. The Pawnshop of Stolen Dreams is an enchanting middle-grade fantasy inspired by classic folklore with a rebellious and modern twist.
"A highly recommended read for children who love stories sprinkled with magic, mystery and a frisson of fear!"
"The Pawnshop of Stolen Dreams is a fast-paced feast of a story, filled with characters you'll love (and some you'll want to run away from at top speed)! It's packed with heart, courage, friendship and fun, and I loved every word."
"Wonka-esque in deliciousness and Oz-like in imagination, a whirling, bubbling and heart-warming adventure of family, friendships and steadfast resilience. Be prepared to slurp this story down in one sitting and have your brainbox thrilled by the fiercest scoundrels, the cuddliest companion and a very brave heroine. I adored it!"
"The Pawnshop of Stolen Dreams is a delicious and richly-imagined daydream of a book - a wonderful blend of magic, mystery and friendship against all the odds, with just the right dusting of dark deeds to thrill young readers and keep them gripped and wanting to find out what happens next."
"Hilarious and creepy, this is a fantastical and fast-paced adventure in a warped Dickensian world full of mysteries and repulsive villains, with gorgeous illustrations by James Brown"
In a strange little village called Witchetty Hollow, eleven-year-old Florizel is the first to run into the curious visitors who've come to open a brand new Daydream Delicatessen and sack-baby factory.
At first, it seems the daydream confection and cheap sack children are the best things that could have happened to the poor folk of the Hollow – after all, who has the money to rent their child from Storkhouse Services these days? But after a few weeks, Florizel starts to notice something odd happening to the adults of the town. First, they seem dreamy, then they lose all interest in their jobs and families. Soon they're trading all their worldly goods in the newly-opened Pawnshop for money to buy daydreams. With no money for rent payments, the children of Witchetty Hollow are being reclaimed by Storkhouse Services at an alarming rate. Florizel needs to act.
Victoria Williamson grew up in Glasgow, Scotland, and has worked as an educator in a number of different countries, including as an English teacher in China, a secondary science teacher in Cameroon, and a teacher trainer in Malawi.
As well as degrees in Physics and Mandarin Chinese, she has completed a Masters degree in Special Needs in Education. In the UK she works as a primary school special needs teacher, working with children with a range of additional support needs including Autistic Spectrum Disorder, Down Syndrome, physical disabilities and behavioural problems.
She is currently working as a full time writer of Middle Grade and YA contemporary fiction, science fiction and fantasy, with a focus on creating diverse characters reflecting the many cultural backgrounds and special needs of the children she has worked with, and building inclusive worlds where all children can see a reflection of themselves in heroic roles.
Victoria's experiences teaching young children in a school with many families seeking asylum inspired her debut novel, The Fox Girl and the White Gazelle, an uplifting tale of redemption and unlikely friendship between Glaswegian bully Caylin and Syrian refugee Reema.
James Brown filled in a careers questionnaire when he was 13 which told him he was definitely going to be a teacher and an illustrator – and it was right! James studied English Literature in Sheffield and Stockholm before taking up Creative Writing at St Andrews University. He was one of five illustrators to win the SCBWI's Undiscovered Voices 2014 competition, and since then James has been balancing his job as an English teacher with writing and illustrating books for children of all ages. James grew up in Nottingham where he now lives with his wife, daughters and a cat called Peg.