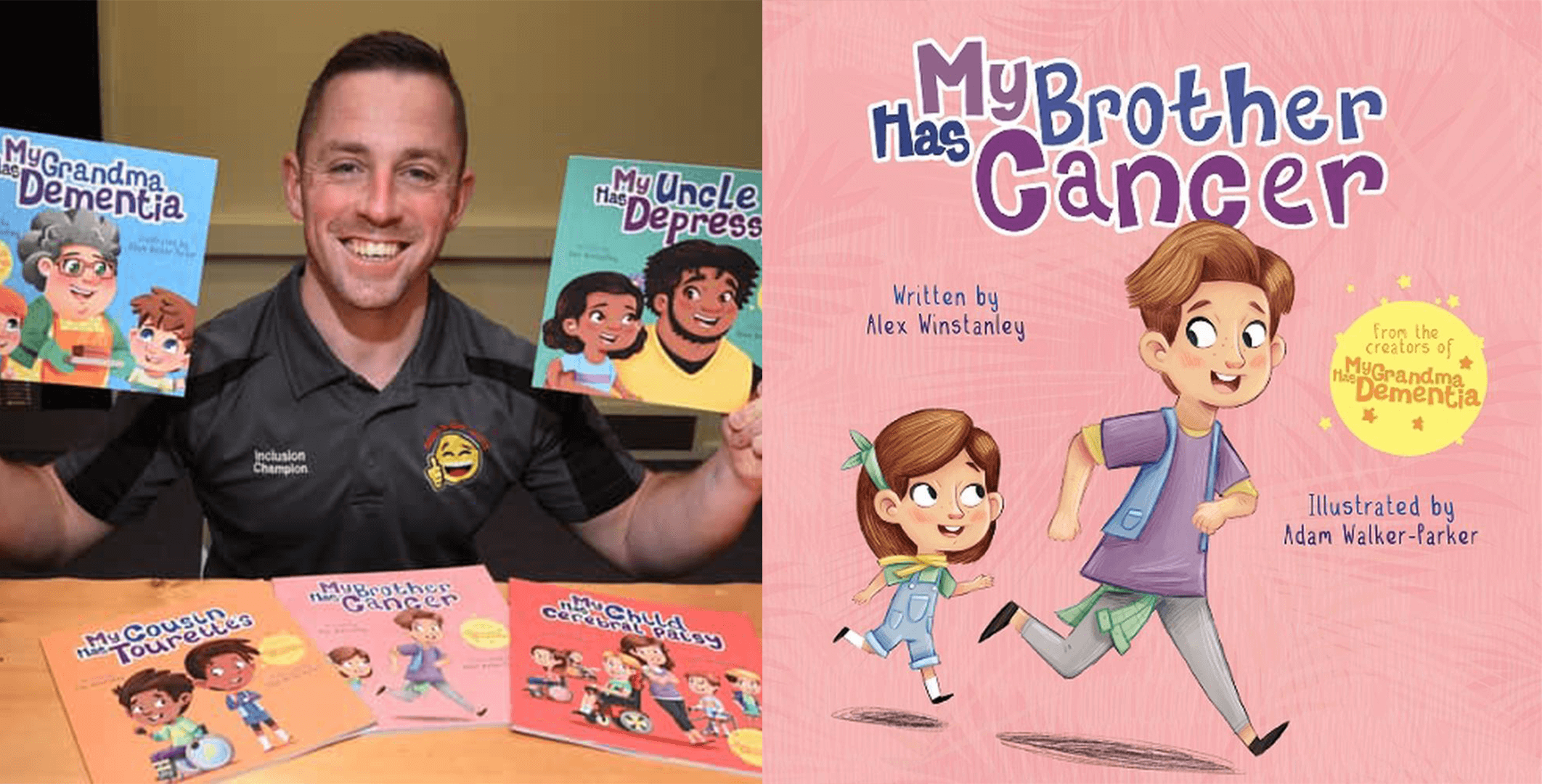 A children's book about cancer can be as important as it is difficult to write; just ask author Alex Winstanley. The prolific children's author behind My Brother Has Cancer has also covered topics of dementia, depression, tourettes, and cerebral palsy in his award-winning 'My Has' picture book series; giving children and their caregivers a resource to better understand and talk about serious illnesses and medical conditions.
We sat down with Alex to discuss My Brother Has Cancer to showcase just how important it can be to have books like this available to children, parents, teachers, and more. Alex talks us through his early inspiration for the book, his approach to distilling these complex ideas into an accessible children's book about cancer, and some of the wonderful feedback he's received.
---
Hi Alex! We know that the 'My Has' series is a project that you're really proud of. Who or what first inspired you to write My Brother Has Cancer?
The book was inspired by my brother Jamie, who experienced Cancer. I'll never forget hearing the word and feeling like the world had collapsed. Jamie has been in remission for a long time now thankfully but others aren't as fortunate, including a friend, Will, who passed away from Cancer in 2016 in his early twenties. It came from nowhere and made me realise that it can happen to any of us, and you can see some personal messages from Will's family in the book. 
I'd imagine that writing a children's book about cancer can be quite difficult. How did you approach explaining a complex topic like cancer to young readers in an age-appropriate way?
As with any of my books, I speak to people with lived experiences and then test out the story by reading it to children and young people who then give me feedback. For me, it's about getting points across in as positive and supportive a manner as possible, whilst being realistic, particularly with complex topics like this.
My Brother Has Cancer focuses on a brother and sister duo. Can you tell us a little about the main characters in your book and the journey that they go on?
The younger sister character is the main narrator, who takes the reader on a journey alongside her older brother. It's clear that the siblings are extremely close and the family is rocked by a Cancer diagnosis. As the story continues, the younger sister goes on to learn all about the different forms of Cancer, treatments, and the all-around impact that Cancer may have on an individual and their family. It does hint at loss through Cancer, inspired by Will's experiences, and I hope that starts a conversation in a supportive way between children and family members about Cancer and loss.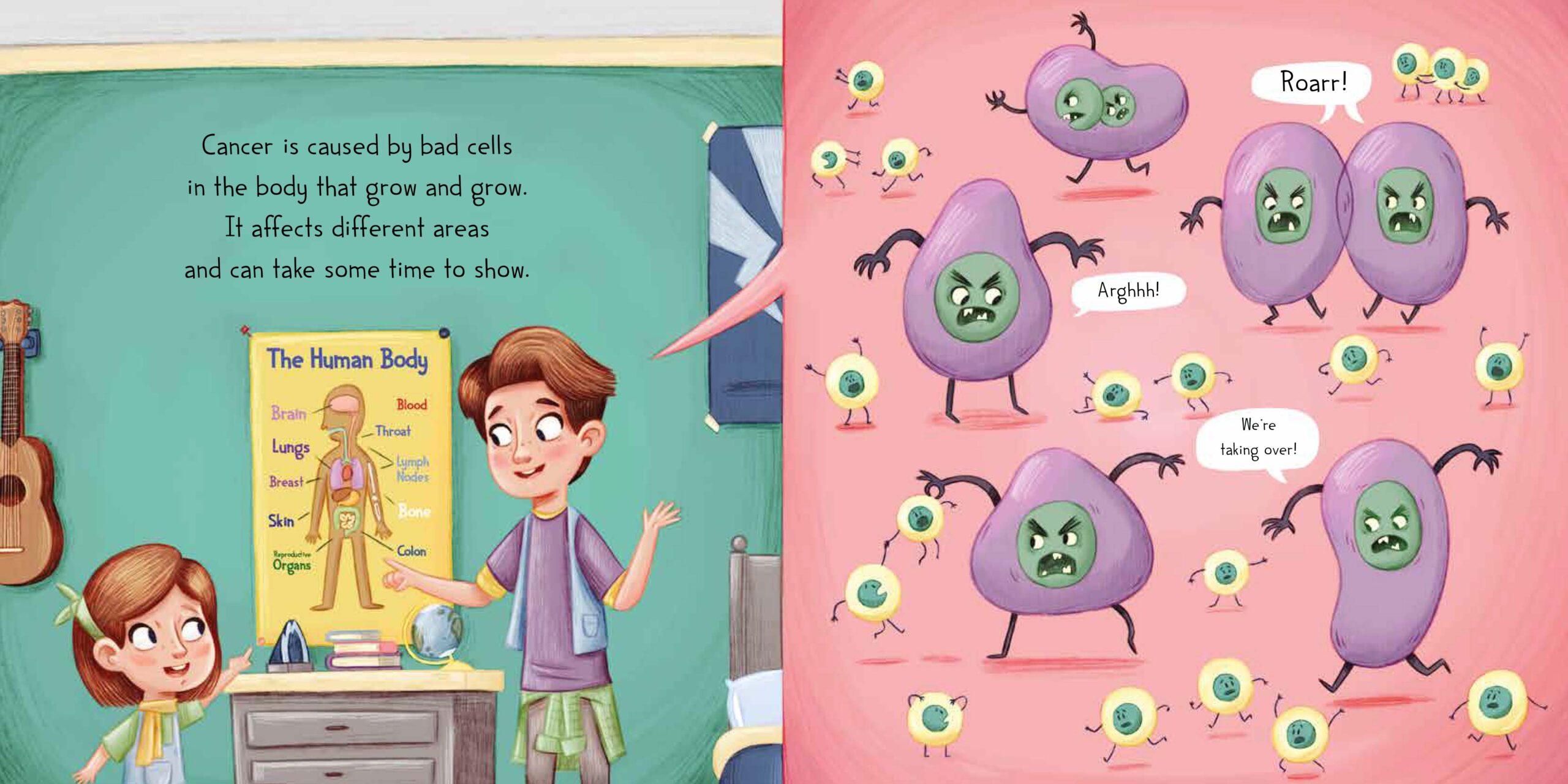 What role did the book's illustrator, Adam Walker-Parker, play in helping you strike the balance between the book's crucial messaging with a book that would keep children engaged?
Adam's illustrations are second to none in my biased opinion! Everyone always comments on how engaging, bright, and colourful they are, which is a huge reason why I originally started to work with Adam. The great thing about Adam's work is he goes above and beyond to make sure that, even with the most serious and challenging scenes, children can relate to the images and characters they are seeing. Adam also puts lots of extra information in that isn't able to fit in the text, through his illustrations, such as the different forms of Cancer on a poster in the background of one scene.
With My Brother Has Cancer and the rest of your 'My Has' series, you've addressed some really serious subject matter. How important is it for children to have access to books like this?
Again I'm biased but everyone tells me that these books should be in every school and a part of the national curriculum. I think that children and young people can be shielded from conversations around serious subjects such as Cancer, but when conditions such as Cancer, Dementia, and Depression are going to impact everyone in the world in some way at some time, I think it's vital that we introduce children to them in as supportive a way as possible.
We know that this book has helped children and families across the country (and the world!) understand cancer, cancer treatment and the effects on loved ones. Do you have any advice for parents, teachers and caregivers wanting to use the book as a resource to help children cope with a family member's illness?
Lots of families have got in touch to say that this book, and others in the My Has series, has helped them to start talking about conditions such as Cancer. My advice would be to (please!) buy the book and allow a child in your family to form their own understanding about Cancer, so that they can start to ask questions and you can use the book to help answer those questions, hopefully reducing any anxieties they may have.
We know there has been some incredible feedback from readers of My Brother Has Cancer. Is there anything in particular that someone has said that really stuck with you?
I was at a local community event recently when a parent approached me and told me they had bought the book for their children, whose father had just been diagnosed with cancer. Given that her children were 3 and 7 years old, she wasn't sure how to initially talk about it. However, after buying the book, she said the children opened up and asked loads of questions that they were able to talk through as a family. It always makes my day when someone tells me that one of my books has helped them!
Raising awareness and increasing the messaging around childhood cancer is something that is really important to you. Are there any other resources or organisations you can point people to that are doing good work with children and families in such unfortunate circumstances?
There are incredible organisations out there such as Macmillan, Cancer Research UK, and so many smaller, local support groups. I would start by looking up your local cancer support service and I'm sure you would find some incredible support.
Finally, what message or lessons do you hope young readers and their families, teachers, or caregivers will take away from My Brother Has Cancer?
Like with all of the books in the My Has series, one of the main takeaways is to talk about the subject as much as you feel able to. Everyone I have spoken to when writing the books tells me that this was or is key to helping children, young people, and families through extremely challenging times. My Brother Has Cancer, as well as the rest of the series, isn't a diagnosis tool, but it is a conversation starter. I hope that people take away that it's okay to talk about Cancer and I hope it helps as many people as possible!
---
My Brother Has Cancer is one of five books in Alex Winstanley's award-winning 'My Has' picture book series. The 'My Has' series includes a children's book about cancer, dementia, depression, tourettes, and cerebral palsy; each story is crafted and delivered with the help of people living with these conditions.
September is Childhood Cancer Awareness Month. For more information on childhood cancer and ways to donate, please click here.